There are days when the last thing I want to do is walk up to people and ask whether or not I can take their photo. Sure, there are fashionably dressed people dallying around all day, everyday, but it takes a certain kind of resolve to decide to ask someone, which is necessarily fueled by enthusiasm, energy, and a sort of optimism that assumes I will not get shot down. This semester, more often than not, I find myself in an acrid mood, and the last thing I want to do is go bother strangers or infect them or I don't know, approach them in the wrong way.
But when days like that come about, visiting
The Sartorialist
(an ace street style blog by Scott Schuman) is always a surefire way to get me inspired. Though I rarely see people dressed as ostentatiously as his subjects around campus, it reminds me of why street style is so interesting and singularly fascinating--it's the people. In fact, the fashion is almost secondary, but just barely.
As much as I love shooting my friends when I run into them, what really makes street style blogs great, and what I'm most enthusiastic about, is meeting and photographing new people--what's even better is when they're interested in what I'm doing.
On such a small campus, it's hard to find new subjects. Even so, it's a delight whenever it happens. I'm learning to appreciate it. I think it will always be the greatest motivating factor.
I kind of lost the plot! Point is, I hope to always be inspired to be a better street-style photographer. I guess. Either way... Here's a street style photo of Quela; I shot this last Wednesday. I loved the subtle color of her boots; they were a very light mint or pine green... and just her layering.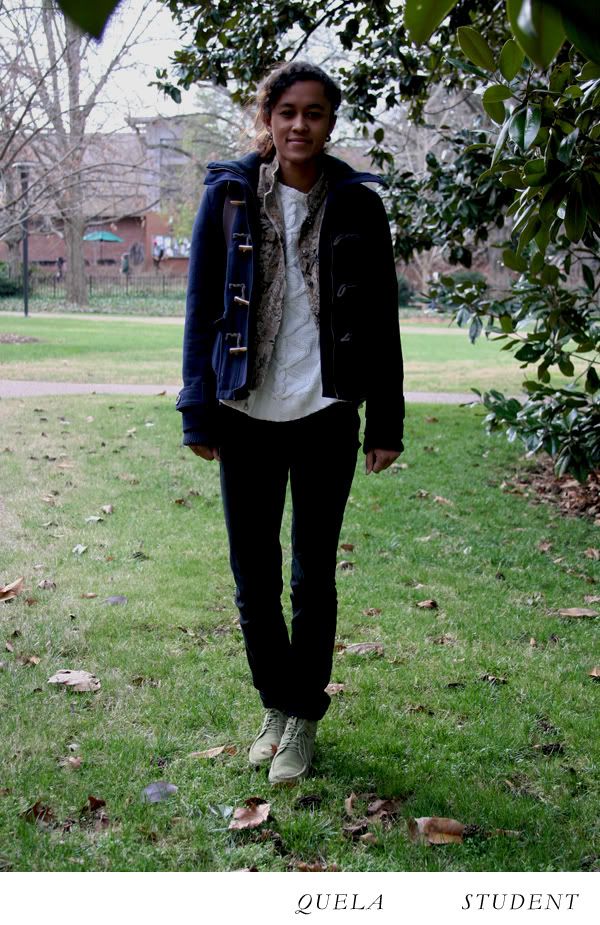 See you soon (more photos to come!),
Jenn