The winter winds litter... Nashville with leaves crackling under our feet, chubby squirrels along the sidewalk, and hearths burning in our hearts. Or so I'd like to think. It's good to keep a healthy dose of optimism in a season like this (which I'm doing for the UGA vs LSU game to no avail), when the weather is hardly on our side. Starting tomorrow, my life will be scheduled around visits (more like extended stays) to the library, as it has been for the majority of the latter half of this semester. Oh well.
Winter, other than finals and frigid weather, brings about many lovely traditions as well, fashion or otherwise. In the regular world, holiday music and steaming mugs of hot chocolate always bring me to warm places. When it comes to style, I'm loving the variety of coats I've seen on campus, some vivid in color, others understated and elegant with classic, textured prints.
While I love the charcoal, black, and gray fabrics of the season, I think the sky represents those dark shades well enough on its own. What I want to see is color, bright and alive, defiant of the slate grays of the tree bark and the concrete and the clouds that litter the sky, defiant of the spirit-withering quality that winter so possesses. That's why I literally chased down Kelsey (with my shoe laces untied) to get this picture of her bright blue coat. They say blue is a color of sadness, but the brightness of this coat has sure lifted my spirits!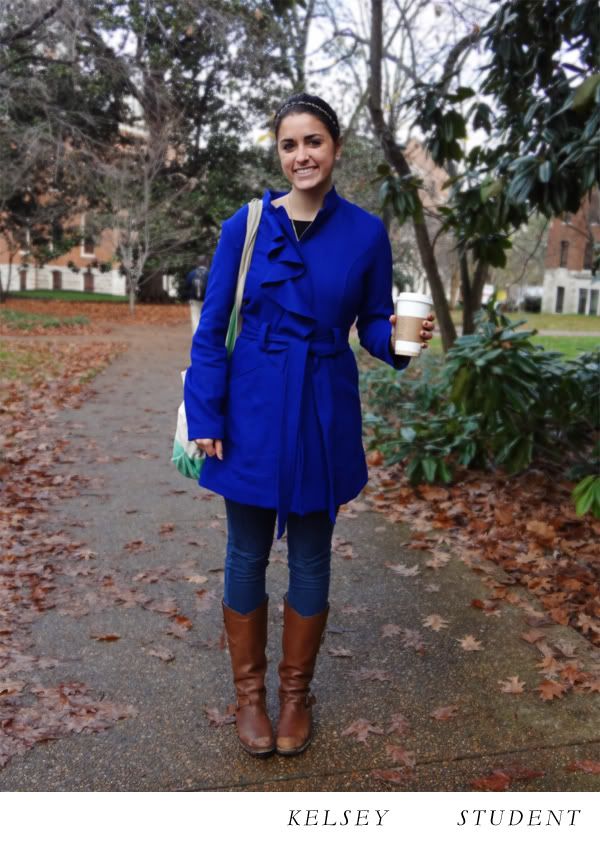 Just imagine a sky that shade of blue, how resplendent the world would be!
Love,
Jenn