Ah, home sweet home! Strange that home never feels the same after a fruitful semester away. They say there's no such thing as being "bored" when you're away at college, but that certainly does not apply to the good old city of Johns Creek.
No complaints, though, as I'm taking some much needed time to myself... just pure, unadulterated vegetation, at least for the days leading up to Christmas. After a round of especially exhausting finals, I consider it necessary.
It's nice to be part of a family that has a no-fuss approach to the holidays. No, seriously, though. We have no tree... couldn't be bothered to pull the plastic one we've been using for decades out of the basement. No big, hammy dinner plans, or wrapped presents, even. It's nice, though, just curling up on the couch with a mug of hot chocolate while I muse with my father over what we should eat for dinner. Some might say we've reached a new level of laziness, but I'd like to re-characterize it as being low-maintenance. Like, extremely.
I did finally drag myself out of the seasonal slump to update this blog with some much needed cheer. Before I left for break I got a few great pictures on my friend's Rebel... Ugh, I want one of my own. It will take many more months of work before I can even entertain the thought. But for now, here's a lovely street style shot of Mallie, who is similarly lovely and so sweet! Also sweet are the details on her cowboy boots, which she has paired with a (mint? sage?) green top. Any shade of green is good by me, and this happens to go very well with the red hues of her scarf.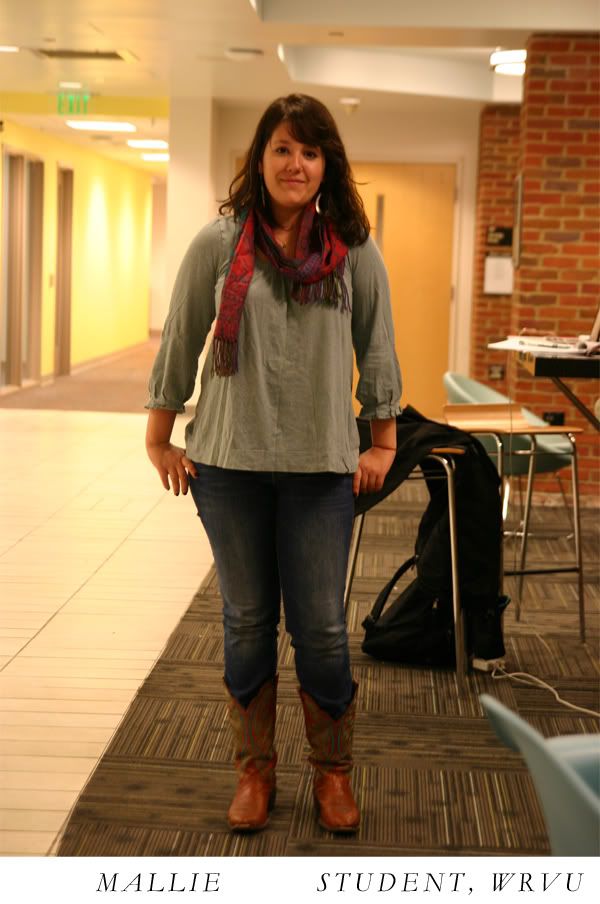 Have a great break, everyone!
Jenn